About the Artists
Ever since I was a young child I have been fascinated with the power of photographs to inspire, educate and tell stories about our world. Using state-of-the-art equipment, I aim to capture unique images of subjects both familiar and uncommon through combinations of light, optics and perspectives that give the viewer intimate insights into my subjects. After image capture I personally oversee the creative process from processing through final print creation to bring my artistic visions to life.

In collaboration with Carl and Ginny Freeman I operate the Focus Gallery in Frankfort, Michigan. We first opened our doors in 2015 and are pleased to display my photography and amazing watercolors, pen and inks and photography by Carl Freeman. We operate seasonally, open weekends in the spring and fall and full-time in the summer months. The rest of the year I live in Kalamazoo, Michigan and work on a variety of photo projects, taking new photos, planning out new images for the gallery and enjoying life with my wonderful wife Erin and my three awesome kids.
I am proud to have had my work displayed in a wide variety of spaces, public and private. In addition to having my images hanging in many homes and offices, my photos have been published by Traverse Magazine, the National Wildlife Federation (NWF), Audubon, National Parks magazine, Nature's Best Photography, The Washington Post, the U.S. Fish & Wildlife Service (US FWS), the National Wildlife Refuge Association (NWRA), and the North American Nature Photography Association (NANPA), among others.
I am particularly proud of my work with the Grand Traverse Regional Land Conservancy (GTRLC), with whom I have collaborated on a variety of photo projects spanning more than a decade. Many of those images can be found on this website - they're a special organization. I'm proud to count myself among the "Land Lovers."
Other corporate and non-profit clients have included Pure Michigan, National Parks Conservation Association (NPCA), KPMG, Hyatt Place Hotels, Jones Lang LaSalle, Gibson Guitar, the Benzie County Chamber of Commerce, Frankfort & Elberta Area Chamber of Commerce, among others.
I've been an incredibly lucky guy and appreciate the opportunity to share my work with you!
---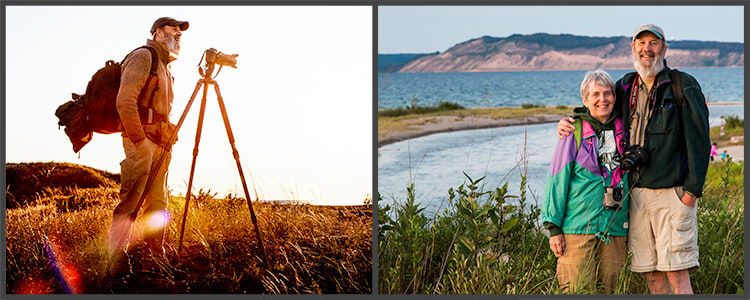 The natural world has always been a source of enjoyment to me. Watching birds at our feeder, doing 4-H projects, and participating in local Audubon activities are all vivid boyhood memories. My experiences with various Audubon societies have been especially rewarding throughout my life. Washtenaw Audubon field trips and screen tours in Ann Arbor, attending the National Audubon Camp in Maine, and then being a student assistant there.
In 1970 I was a bird instructor at the National Audubon Camp in Wisconsin. The countless hours I spent hunting, fishing, and camping with my parents also contributed greatly to my knowledge and appreciation of the outdoors. Being a science major at Alma College, two years of grad school in environmental education at the U. of Michigan and three years as staff ecologist for an outdoor education facility in northern Michigan have served to deepen my involvement with nature. I have volunteered at Whitefish Point Bird Observatory and the National Audubon's Rowe Sanctuary for sandhill cranes in Nebraska. I also conducted a Breeding Bird Survey route for the Fish and Wildlife Service and have done extensive field work for the Michigan Odonata Survey (damselflies and dragonflies).
This lifelong interest in the natural world has been the inspiration for my artwork, which is all based on personal experiences in the field. I feel my art is an expression of my deep appreciation for the natural world, and I hope that my paintings, drawings and photographs in some small way increase yours. Although I have taken a few formal art classes, I am mostly self-taught and have been helped along the way by other artists. The quality of my photos has greatly improved with expert help from Drew, especially my landscapes.